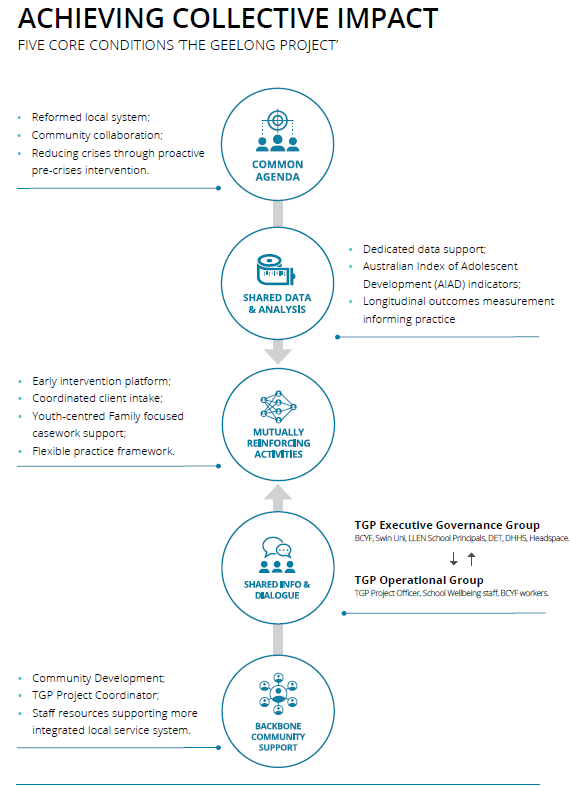 THE COSS MODEL
The 'Community of Schools and Services' (COSS) Model is an innovative early intervention service-delivery and reform-orientated model for addressing and supporting vulnerable young people and their families to reduce disengagement from education and early school leaving and to help where family issues are heading towards a crisis and possible homelessness as well as other adverse outcomes.
The COSS Model takes a place-based systems approach for maximum efficiency and represents a raft of innovations to realise a more effective early intervention system for addressing vulnerable youth.
The COSS Model consists of four foundations:
community collaboration;
early identification;
the practice framework and early intervention support work with families; and
a robust, embedded longitudinal monitoring and measurement of outcomes.
These foundations comprise a significant reform of the local service system of support available for vulnerable young people and their families.
The COSS Model is a leading exemplar of a collective impact initiative in which a community's support resources work collaboratively to a common vision and practice framework using the same data measurement tools. The COSS Model requires two levels of backbone support – at the local level, backbone support is provided by a dedicated project lead whose role is to support the operation of the community collective locally, with Upstream Australian providing the systemic backbone support to all COSS communities, both funded and initiative groups, at local, regional, national, and international levels.
The COSS Model meets all five collective impact key conditions as outlined by Kania and Kramer in their seminal 2011 article, 'Collective Impact', which was published in the Stanford Social Innovation Review. Implemented rigorously and fully, collective impact represents a new paradigm for service delivery and support in the community, a major shift away from the current status quo of targeted and siloed social and educational programs.